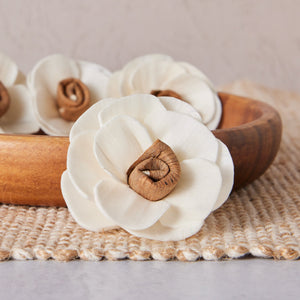 Oh! You're Lovely
Sensation™-| 1.5 inch | set of 12
This sola wood flower is airy and so happy just like something you would see in a wildflower field!    
These come raw/natural in a beautiful cream color with a twisted center using the bark of sola wood.
Features:
Available 1.5 inches

Soft, pliable, and easy to dye.

Unique designs in every bouquet.

Sold by the dozen
These sola flowers are handmade and there can be a slight difference in size and shape from flower to flower.

Sola flowers are not fresh flowers. They are handmade wood flowers. The texture is similar to a really thin version of balsa wood. Because they are handmade, and made from natural materials, no two are exactly alike. Brown veining, sometimes small holes from a "knot" in the wood are on some of the flowers due to being made from the bark of a tree.  
---