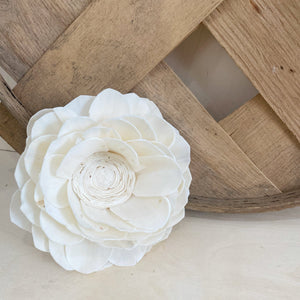 Oh! You're Lovely
Poppy | X-Large | set of 3 Slightly Imperfect
This is our X-Large Poppy!   

We have really high standards at Oh You're Lovely and sometimes our flowers sadly don't hit that mark but they are still beautiful and just need a little extra love to be brought to their full glory.  We call these flowers perfectly imperfect and when a flower falls into this category not only do you get a gorgeous flower that with a bit of dye or shaping will be ready to be a star again you also get an amazing deal to be the one to give it a little bit of extra love!   

This particular sola flower due to the size and style of petals the outer petals do have some tears commonly found on most of the flowers, easily trimmed down
Features:
Available 5 inches 

Soft, pliable, and easy to dye.

Sold in a set of 3 
Please note these wood flowers are handmade and there can be a slight difference in size and shape from flower to flower.  
Sola flowers are not fresh flowers. They are handmade wood flowers. The texture is similar to a thin version of balsa wood. Because they are handmade and made from natural materials, no two are exactly alike! Brown veining, occasional small holes from a "knot" in the wood are on the flowers.
---